'Interest rates' two words that drove the bay area real estate market in the first quarter of 2021.  Prospective homebuyers were spurred into action at the thought of rising interest rates and low inventory.  Record low rates and the thought that the Federal Reserve would likely raise rates in 2022 pushed wavering home buyers that were previously on the sideline into action
Prices
Bay area home prices grew at the fastest rate in over a decade, with median home prices increasing by as much as 40% from prices in Q1 2021.
8 of 10 cities within Santa Clara County are now selling at over $1000 per sf with 5 cities selling for over $1500 per sf.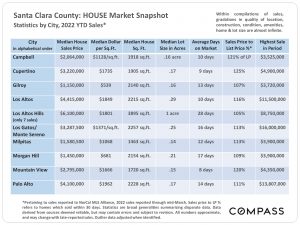 Interest Rates
The main difference between Q1 2021 and Q2 2022 was the consumer price index (CPI) and more importantly, the inflation the CPI showed caused in part by supply shortages, the war in Ukraine, and the increase in money supply.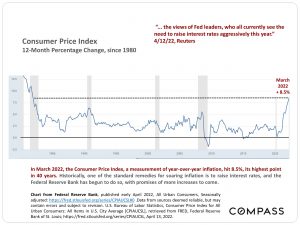 To combat this the Federal Reserve with its 'dual mandate' of maximum employment and stable prices is widely expected to raise interest rates in each of its 6 remaining meetings in 2022, thereby increasing the yield on the 10-year treasury note.
This yield is important because 30-year mortgages have historically been 1.7 to 2 percent above the 10-year T-note.  In April of 2021, the 10-year note was around 1.65%.  As of April 30, 2022, it is 2.98%.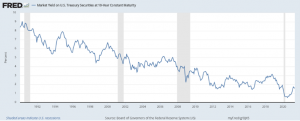 Entering year 3 of the pandemic, bay area real estate buyers with record gains in stock compensation saw the writing on the wall and scrambled to purchase a home and lock historically low interest rates.  On 12/30/21, the average 30-year rate stood at 3.11%.  As of April 14, 2022, the 30-year rate had risen 61% to over 5%.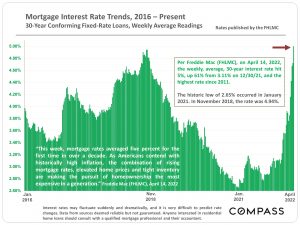 On a historical basis mortgage rates are now entering a territory that hasn't been seen since 2009.  While still relatively low compared to mortgage rates going back to the 1980's, mortgage rates are now nearly double what they were at the January, 2021 low of 2.6%.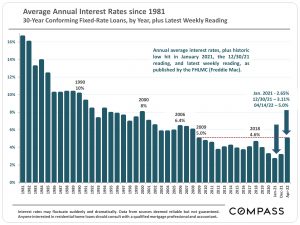 Affordability in the Bay Area
It's difficult to say how much this decrease in affordability will affect the bay area market.  The majority of home sales have been to local tech workers that have seen their wealth increase with a sharp rise in equities over the past few years.
Average entry level salaries (base salary, bonus, stock) at companies with thousands of employees in the bay area routinely start over $150k with stock appreciation easily pushing this number higher (although recent weeks have seen significant stock losses).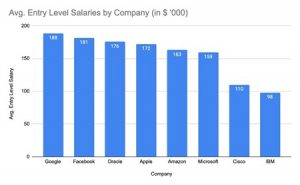 Senior engineers can nearly double this number.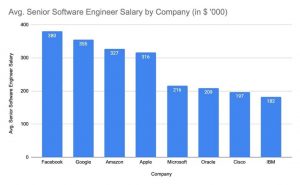 At the lower margin, the rise in interest rates will likely prevent families with tight finances from purchasing homes that were once affordable in 2021.
The rise in rates has increased the down payment needed for a median home in Santa Clara County by $63,500 while the estimated monthly payment has increased by 42% from $5,874 to $8,322.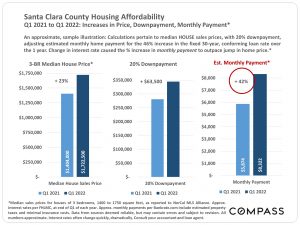 Prices in 2022
While affordability will decrease, we anticipate that 2022 will continue to be a seller's market while becoming slightly less competitive with price appreciation flattening.  Although housing affordability may be lower, demand for housing in the bay area greatly outstrips supply with housing production remaining at a historical lows due to supply constraints and zoning regulations.
While it won't be a buyer's market in the bay area, we anticipate that homes will sit longer with less multiple offers causing prices to remain flat.
This was the scene when mortgage rates last rose in Q2 of 2018, with days on market increasing sharply.
As mortgage rates will likely increase for the remainder of 2022, it will become much more important for sellers to prepare their homes for market.  Cash strapped buyers will become pickier and place a premium on turnkey homes.  This will be especially true as the housing market becomes less affordable for buyer's stretching to buy the same home for more money. With our background in development and construction, the Kei Realty Team is able to renovate homes to ensure the highest sale price in the shortest amount of time, while paying the upfront costs to do so.